Updated April 13, 2020
A Message to Our Customers:
Due to the statewide shortage in medical supplies, INCERTEC is proud to announce our donation of personal protection equipment (PPE) to the Salvation Army. The COVID-19 pandemic has stretched the healthcare industry thin on the protective equipment needed to safely fight this virus. We're happy we could lend a helping hand during these difficult times.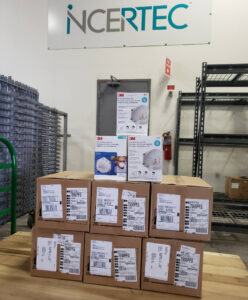 We would also like to update our customers on how our company is handling the ongoing pandemic.
Here at INCERTEC, health and safety are our number one goal. Plating operations are inherently dangerous with various harsh chemicals. However, COVID-19 presents a new kind of threat that creates a different type of reaction.
As of right now, INCERTEC is not changing business hours or halting operations. Our entire staff is taking extra precautionary measures with hygiene, including limiting person-to-person contact during shipping and receiving and wearing gloves while handling product. Additionally, all customer and supplier visits are rescheduled until after May 3, in accordance with Governor Walz's Stay At Home order.
Besides this additional level of precaution, everything is business as usual for us at INCERTEC.
We need to use common sense in our interactions, and we ask all employees, customers and suppliers to take similar precautions. We value the safety of our workforce not just because they are employees, but because we work together. Let's be safe.
Take care,
The INCERTEC team