Scroll to preview content.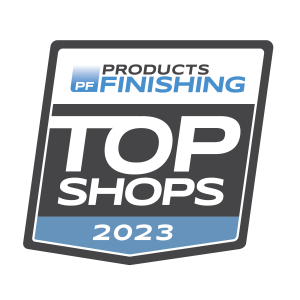 Every year, major coating and finishing shops across North America participate in Products Finishing's Top Shops program helps finishers identify optimal shopfloor practices and improve business operations and procedures. Based on the Top Shops Benchmarking Survey, Top Shops is much more than awards program. Reports containing a data driven analysis of the shops performance in numerous key operating metrics help shops measure their performance against their peers in the industry.
"This is the 9th year we've conducted the Top Shops Benchmarking Survey, offering industrial finishers with a non-biased way to evaluate their shop's performance," says Products Finishing editor-in-chief Scott Francis. "The goal of Top Shops is continuous improvement — and we take that message to heart. Over the past year we've been investing additional resources into the program and working to improve the turnaround time of the benchmarking reports."
Qualifying as a Top Shop has become an important distinction for shops in the finishing industry.
INCERTEC has been selected as a Products Finishing Top Shop in electroplating and anodizing for 2023, based on data analytics from this year's Top Shops Benchmarking Survey.
"Sincere congratulations to the team at INCERTEC upon achieving status as a 2023 Products Finishing Top Shop," Francis says. "The selection process for Top Shops is based on numerous aspects of your business, and qualifying as a Top Shop is a reflection your team's hard work and cause for celebration."
Hundreds of shops participate in Top Shops each year, resulting in a collection of data and statistics that prove invaluable for discovering and assessing areas for growth and improvement, including finishing technology, performance and practices, business strategy and human resources.
To learn more about Top Shops Benchmarking visit gardnerintelligence.com/report/top-shops-benchmarking
Go to Content