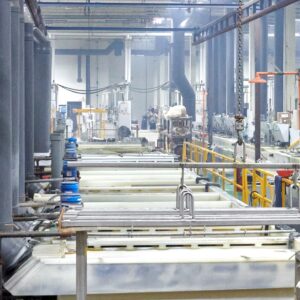 Dedicated Plating Line Services
The Ultimate Partnership
Metal finishing is a service industry charged with turning customer parts quickly and accurately. But what happens when a metal finisher hits capacity constraints? Or worse, encounters quality issues that snag a whole project?
Most finishing companies attempt to capture a diverse customer base by catering to many industries, building an inventory of standardized tooling and one-size-fits-most technology.  This mentality is not suited for high volume, repeatable work.  Creating repeatable, high-quality results, requires the equipment to remain dialed-in to precise specifications.  This can be accomplished with a dedicated plating line process.
What is a dedicated plating line?
A dedicated plating line is designed, planned, and equipped to only run a customer's specific part or part family within a plating shop.  Simply put, finishing tanks and equipment are designed for a single customer at their disposal, including dedicated labor.  The customer controls what, when, and how much goes through the line.  When parts are outsourced for plating, the metal finisher dictates the price and lead time based on information from the purchase order and print.  The lead time can also vary depending on the finisher's backlog and available labor.  A dedicated line can be designed around meeting price targets, lead times, quality requirements, line contamination and FOD.
When considering a dedicated line, it is important for the customer to reflect on what organizational goal and competitive advantage is being accomplished through the dedicated line.  What is important to the organization?
When are dedicated plating lines appropriate?
Often, it is purely scale driven.  Most plating companies cannot handle a large daily increase in capacity and still effectively serve its customer base.  A dedicated plating line comes with all the benefits of vertically integrating, minus the day-to-day headaches.  Many manufacturers prefer to focus on their core competencies with no desire to vertically integrate the metal finishing operations.  Others lament on the amount of overhead frequently wasted on additional quality and purchasing efforts from outsourcing metal finishing to multiple vendors while attempting to meet their customer's lead times.  A dedicated line solves both.
Vertically integrating metal finishing has a high barrier to entry.  Waste treatment and disposal, EPA regulations, skilled labor, special certifications (NADCAP, ITAR, AS9100, ISO 9001) are all expenses and responsibilities that cannot be ignored. Vertically integrating involves a certain level of risk.  For example, plating facilities are notorious for starting on fire.  It is one thing to bring down a plating operation, but it is detrimental if it brings down the rest of the manufacturing process.
There are a few circumstances to consider when talking about dedicated plating lines.  What is the longevity of the project? Is this existing work that has been running for years and will likely continue for years to come, or is this work a new part or part family that could run for several years?  Does it make sense to the bottom line? Dedicated plating line services come with a price tag and need to generate a certain level of sales per square foot while meeting customer price targets to make sense. The ROI should benefit everyone involved.
INCERTEC PLATING LINE SERVICES
The goal at INCERTEC is to always have the space and capacity open for dedicated plating lines.  INCERTEC has grown significantly based on this principle of partnership. Partner with us and we will work with you to find the best solution.