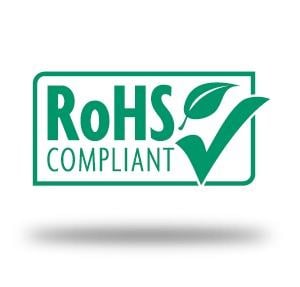 INCERTEC provides RoHS compliant finishes. The definition and aim of the RoHS directive is quite simple. The RoHS directive aims to restrict certain dangerous substances commonly used in electronic and electronic equipment. Any RoHS compliant component is tested for the presence of Lead (Pb), Cadmium (Cd), Mercury (Hg), Hexavalent chromium (Hex-Cr), Polybrominated biphenyls (PBB), and Polybrominated diphenyl ethers (PBDE). For Cadmium and Hexavalent chromium, there must be less than 0.01% of the substance by weight at raw homogeneous materials level. For Lead, PBB, and PBDE, there must be no more than 0.1% of the material, when calculated by weight at raw homogeneous materials. Any RoHS compliant component must have 100 ppm or less of mercury and the mercury must not have been intentionally added to the component. Some military and medical equipment may be exempt from RoHS compliance.
Please identify your need for RoHS compliance on your orders and we will likewise note compliance on our material certification. Such certification will be stamped to identify the products as RoHS compliant.
INCERTEC Environmental Policy
As a metal finisher INCERTEC is committed to regulatory compliance, continual improvement and prevention of pollution to ensure that we are doing our part in protecting the environment.