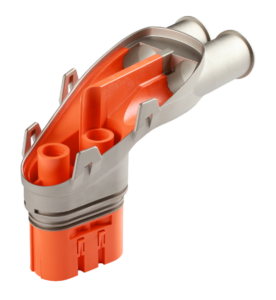 PLATING THE UN-PLATEABLE PLASTIC PBT CONNECTORS
How determination and innovation laid the foundation of metal finishing on uncommon substrates at INCERTEC
Deutsch Automotive Group, a California-based connector company, was creating connectors for the power module in Renault's new electric automobile the Fluence Z.E. This connector was made of PBT (Polybutylene Terephthalate) a thermoplastic polymer often used by engineers and manufacturers for its high strength, heat resistance, electrical insulation, and chemical resistance properties. Thus, creating a durable cost-effective product without compromising performance.
All that remained was for Deutsch to make the PBT connector electrically conductive by adding a layer of metal. Even though a few companies in Europe had meager success in plating PBT, it was (and still is) widely acknowledged as "non-plateable" by US metal finishing companies who routinely plated composite materials.
PLATING ON PLASTIC
A plating shop in Fridley, MN was eager to take on this challenge. Established in 1993 as Spec plating and newly renamed INCERTEC to reflect the company's dedication to innovation, certifications, and technical abilities, INCERTEC was determined to prove out its new name.
Product development manager Jerrid Matson and INCERTEC's onsite chemists got to work testing different forms and combinations of pre-treatment on the PBT substrate. Solidifying this process was imperative to the success of the entire project. Creating an initial bond by increasing pore sites in the base material enables it to receive the proprietary chemistry and become seeded, creating the metallization layer. Once a part has been metalized, it is no different than any other non-ferrous or ferrous metal and could be plated with typical electrolytic or electroless plating processes.
SELECTIVE PLATING
Adhesion of the metal plating to PBT connectors was not the sole obstacle INCERTEC had to contend with. The team had to selectively plate and define demarcation lines where the substrate was to remain untouched by the metallization process. Custom rubber masking molds were procured with the intent to mask off specific areas efficiently and effectively, but the masking molds could not create a strong enough seal to prevent the plating from leaking into the undesired areas.  INCERTEC had to reallocate internal resources to hand mask the plated PBT connector resulting in a heavily involved multi-step process cycling with pretreatment and post finishing.
SOLUTIONS BASED RESEARCH & DEVELOPMENT
Weeks went by as the research and development team frequently put in 14-hour days testing and fine-tuning processes and determining the best method for the selective plating. Days were long, but spirits were high as the team continually moved closer to success, driven by the internal motivation to prove to Deutsch and themselves that INCERTEC had the quality and the expertise with plating on plastic to tackle a seemingly impossible feat. Within 3 months of taking on this Goliath of a project, INCERTEC was successfully plating the un-plateable PBT.
A PROCESS PROVEN
By early May 2011 INCERTEC proved out the process with continued success and received its first skid of Deutsch connectors. This was the first full-volume project INCERTEC had seen. Everyone came together as a team to accomplish the unprecedented high volume, repetitive work. The workflow was then simplified to a dedicated plating line style process. Creating easy-to-understand work instructions and training with the ability to pull in more resources, while still creating repeatability.
By late 2011, INCERTEC transitioned the Deutsch plating operations to its new state-of-the-art metal plating facility in Empalme Sonora Mexico and continued plating PBT connectors until Deutsch was bought out by TE in April 2012.
We took something that said it couldn't be done in the US, and inside of 3 months it was being run by people who had no idea how difficult what they were doing actually was.
-Jerrid Matson looking back on the successful endeavor.
THE TECHNICAL ABILITY OF INCERTEC
Since the plating of the first Deutsch connectors, INCERTEC has continued to increase its capability of plating on unique substrates like composites, magnets, and ceramics. If you have any questions about how we can help you solve a plating challenge, contact us today to learn more!